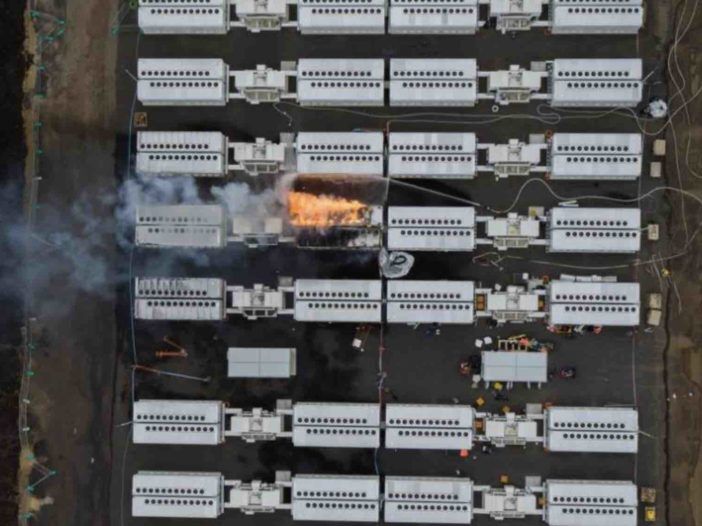 A fire that destroyed two Tesla Megapack containers at the massive 300MW/450MWh Victoria Big Battery on Friday has been brought under control, as work begins on assessing the damage – and potential delays – to Australia's biggest battery.
The Country Fire Authority said late on Monday that there was no further sign of the fire that broke out in one of the Big Battery's Megapack units on Friday morning, on the second day of testing, before spreading to one other container.
The battery's developer, Neoen, said in a statement that EPA air monitoring had shown there to be good air quality in the local community and noted that the fire had caused no injuries and no impact to electricity supply.
"Investigation preparations are underway and physical inspections will commence once the CFA have completed their procedures," said Neoen Australian chief Louis de Sambucy.
Focus can now turn to the cause of the fire and what impact it will have on the full deployment of the battery, which was due to play a significant role in the grid this summer, supporting it during peak demand periods and providing frequency control and ancillary services.
Neoen CEO Xavier Barbaro told an investor briefing in Paris on Friday night that it was too early to say if there would be a delay on the date of commissioning of the Victoria Big Battery, which had just last week obtained its registration and was working towards a first "hold point" to allow for 30MW of the installation to be deployed.
The post Tesla Megapack fire finally under control, no word on delays to Victoria Big Battery appeared first on Solar Choice.
Did you miss our previous article…
https://www.narecsolar.com/?p=124